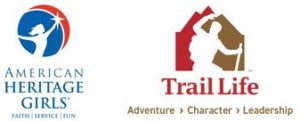 American Heritage Girls
Dedicated to Faith, Service, and Fun
AHG Troop KS0057
meets at
4801 Anderson Avenue
Manhattan, KS 66503
Pathfinder, Tenderheart, Explorer (Grades K-Age 10)
& Pioneers and Patriots (Age 11-Grades 12)
meet
the first and third Mondays of the month,
6:00-7:45 p.m.
Trail Life USA
Participate in the greatest
Adventure, Character, and Leadership
Youth Program in Manhattan.
Click here for more information about Trail Life USA.
TLUSA Troop KS0057
meets at
4801 Anderson Avenue
Manhattan, KS 66503
Woodland Trails – Fox, Hawk, and Mountain Lion (Grades K-Age 10)
meet
every Monday night
(starting in September)
6:15-7:15 PM.
Navigator/Adventurer (Age 11-Grades 12)
meet
every Monday,
7:00-8:30 PM.
Both American Heritage Girls (AHG) and Trail Life USA (TLUSA) are interdenominational organizations. This means that each charter organization, while embracing the Statement of Faith of AHG and the Statement of Faith of TLUSA, is also able to be who they are according to their doctrine and practice. Each charter organization is able to put their "denominational flavor" (from a AHG 2010 brochure) on the troops that they own and operate, that is, "each Charter Organization oversees its own program and emphasizes its own denomination-specific customs and theology" (from the TLUSA FAQ web page).