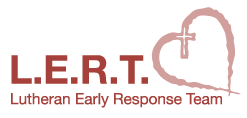 The Kansas District LCMS will be hosting
a LERT (Lutheran Early Response Training)
on Saturday, Feb. 10th
from 9:00 am – 3:00 pm
at St. Luke's Lutheran Church.
Registration is $25 per person
which covers the cost of the training, snacks and lunch.
Please register by Jan. 28th.
At the close of the program, participants will receive
a certificate of participation and LERT volunteer credentialing
issued by LCMS Disaster Response.
This 6 hour training event will equip attendees
to be effective volunteers
should a disaster strike our community, state or nation.
This training is hosted by the Kansas District LCMS.
Together we will walk through a simple training program
designed to help us serve
as trained Christian volunteers when a disaster strikes.
At the center of the LERT volunteer training is one thing— MERCY!
Christ's mercy is the basis for everything we say and do.
Click here for the St. Lukes LERT Registration Form
and send the completed form by January 28th
with $25 (per person) made out to "St. Luke's Lutheran Church"
and mail it to:

St. Luke's Lutheran Church
Attn: Jean Olson
330 Sunset Ave.
Manhattan, KS 66503