Who Are We?
Our Vision
To be a loving, forgiving, Christ-centered family that faithfully uses Scripture to enable and equip its members to reach and serve its diverse community.
Contact Us Now
Worship times...
Saturday, 6:00 PM – Traditional
Sunday, 8:30 AM – Traditional
Sunday, 11:00 AM – Contemporary
Other Sunday morning activities...
9:30 AM – Coffee and donuts in the Fellowship Hall
9:45 AM – Educational Hour (Sunday School and Adult Bible Study)
Life Touch Photo Direction
We are getting ready to create a new photo directory for St. Luke's and we need you to help make it complete. By participating you will receive a free 8 x 10 portrait and a free printed directory. Sign up for your professional photography session in three convenient ways
1. Schedule your appointment online through our website. Click on the portrait sign-up button below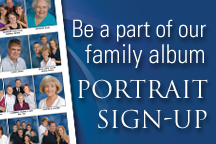 2. Look for sign-up tables at the church services from 12/12/15 – 1/1/16.
3. For assistance, call Jeanette at 785.539.6060.
Our directory won't be complete without you. Sign up today!
St Luke's Lutheran Church has an immediate position opening for a social media coordinator.
Position duties include but not limited to:
Coordinate all content and updates to the church website as submitted by the coordinator and others that have access to the site

Enhance existing content on the website

Coordinate and develop all social media outlets, Facebook, Twitter, Youtube, Instagram etc.

Schedule and maintain live streaming schedule of church functions

Organize daily posts on all social media outlets

Post photos and write content about church activities

Keep active calendar of upcoming church meetings and events

Post news including church council and other church board  agendas and meetings
This is a part time position…up to 15 hours a week, number of hours will vary from week to week.
Applicant must own a smart phone, tablet, etc.
Apply today:
send resume and letter of interest to:
Ed Klimek